ConvertKit and Me
I started my marketing efforts when my first book, My Disability Doesn't Define Me, was in the publishing phase. I asked myself, "How do I make the news known about this book?!"
The answer: email marketing.
So, with that, I set out to look at different email marketing softwares that were out there. And, to be honest, there are many. But, when it comes down to it, in the end I chose ConvertKit.
Five Things I Love About ConvertKit
How easy it is to bring subscribers into your world
There are two ways for people to go into your account: forms and landing pages.
To see a live example of this landing page, click here.
How easy it is to create autoresponders to automate your emails
When someone comes into your account through a form or landing page, you can create a rule or a visual automation to send them a freebie or a welcome/nurture sequence.
How easy it is to segment your list based on different criteria
When you send your new subscriber an email, you can make sure that you organize them correctly in your account by creating different segments and tags.
Below are for example purposes only. You can segment based on many different types of criterion.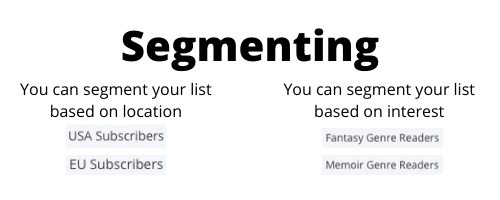 How easy it is to create a broadcast for subscribers
If you want to send a newsletter-type email (or time-sensitive offer), you would send a broadcast, which is like a one-off email.
How easy it is to create and share automations
You can create and share visual automations with anyone. You just need to tick the option in an automation and share the link.
If you are brand new to email marketing
a 30-minute one-on-one call—within the time of your free trial—to get started with ConvertKit. (It will be recorded so you can refer back to it later!)
If you are moving from one email marketing software to ConvertKit
a 30-minute one-on-one call—within the time of your free trial—to get started with ConvertKit. (It will be recorded so you can refer back to it later!);
guidance on moving your subscribers from your old software to ConvertKit